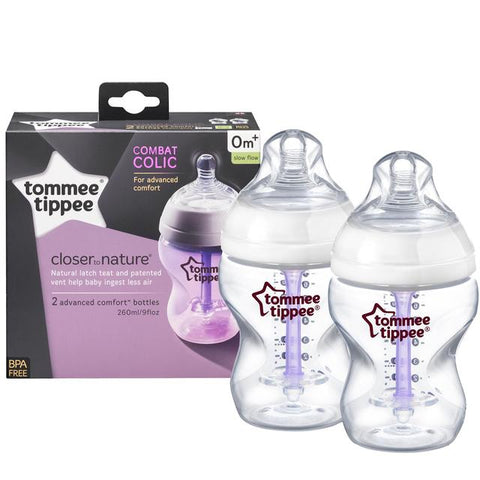 Tommee Tippee Closer to Nature Bottle Anti Colic
Tommee Tippee Closer to Nature Advanced Comfort Vented Bottles 260ml x 2   Product Features; - Unique tube and value system designed to help prevent colic caused by air bubbles...
Add to Wishlist

Tommee Tippee Closer to Nature Advanced Comfort Vented Bottles 260ml x 2
Product Features;
- Unique tube and value system designed to help prevent colic caused by air bubbles in milk
- Soft, natural-feel silicone teat mimics mums breastfeeding action
- Unique, breast-like shaped teat for easy-latch on
- Easy-hold bottle with slow-flow teat for newborn babies
- BPA-free for ultimate reassurance
Product Description:
Colic in infants may be caused by a number of influences. Some experts believe that the discomfort caused by ingesting air during feeding is a significant contributing factor and when bottle feeding, this can be stressful and upsetting for both parents and babies. The new advanced comfort¿ range from tommee tippee closer to nature is specially designed to help prevent colic by reducing air bubbles in the milk and to encourage a good latch-on during feeding.  As with all closer to nature bottles and teats they are designed to also allow mothers to switch between bottle and breastfeeding with limited disruption or confusion for baby.
Key Features
A Baby can ingest air during feeding in two ways:
- Air within the milk
- When feeding at the teat
Tube & Valve System reduces air in milk
Closer to Nature advance comfort bottles provide optimum venting during feeding via a unique tube and valve system.   Air can enter the bottle safely, vents down through the tube and into the air-space at the base of the bottle, completely bypassing the milk
Wide neck teat for easy latch on
The Advanced Comfort teat with wide neck design allows for an easy and more natural latch on for your baby, so there is less risk of air being taken in during the feeding process.
Revolutionary Teat
Revolutionary soft silicone teat developed with breastfeeding experts and Mums, feels like skin and gently elongates and flexes during feeding to mimic natural breastfeeding action. Closer to Nature Bottles makes feeding time easier for Mum and Baby.  
Breast like Shape
The breast like larger shaped teat of the Closer to Nature bottle allows baby to latch on easily and further supports the transition between bottle and breast.
3 way Compact Shape
The compact shape of Closer to Nature bottles allows baby to feed in a natural position and to be closer to Mum or Dad. The easy hold bottle can be held in 3 ways--cradled comfortably in the hand, gripped in the same way as a traditional wide neck bottle, or held from the base--making feeding comfortable for everyone.
Easy to Clean & Use
Closer to Nature bottles and teats are easy to clean and fill. They are microwave and dishwasher safe, yet light and easy to hold. The easy hold bottle is marked in millimetres and ounces and has a hygiene seal cap to keep germs out and drips in.
BPA Free
For total reassurance, all of our products are free from Bisphenol A (BPA).
Advanced Comfort Teats
The Advanced comfort teats do not feature the easi-vent¿ valve found in standard closer to nature teats as they have a unique tube and valve system to provide optimum venting during feeding,  The closer to nature easi vent teats are not compatible with the advanced comfort range and should not be used together.  The advanced comfort teats are clearly labeled with an ¿Anti-Colic¿ mark on the teat and the packaging has a purple background to help identify the range. 
Replacement Teats
The advanced comfort teats are available in two flow rates, medium and fast.  You can select the flow rate most suited to your babies needs at every stage.
All our teats are supplied with an age range; this acts as a guide only as every baby is different and will develop at different rates.  The flow rate can be located on the actual teat in the form of a number, 2 is medium and 3 is fast flow.
We recommend changing your teats every 4-6 weeks or at the first sign of any wear and tear. Signs that your baby is ready to progress onto the next teat are when they try to suck harder to get milk more or become frustrated and tired during feeds. 
What¿s in the box?
- 2 x Closer to Nature Advanced Comfort 9oz/ 260ml Vented Bottles
- 2 x Closer to Nature Advanced Comfort Slow Flow Teats
- 2 x Screw Rings
- 2 x Lids
- Instruction leaflet
Why choose Tommee Tippee?
tommee tippee®, from the UK based Mayborn Group Limited, is the number one baby feeding accessories brand in the UK and one of the top brands of infant products and accessories in the global market.  The brand was recently awarded consumer Superbrands® status in the 2013 survey. 
Designed in conjunction with breastfeeding experts, the award winning tommee tippee® closer to nature® range offers a wide selection of newborn and baby feeding and healthcare solutions which have been specifically designed to make life easier for you and your little one. The range is as close to breastfeeding as a bottle can be, meaning mum, dad and family can easily combine breast and bottle feeding. 
BPA free, Natural latch teat and patented vent help baby ingest less air, Slow flow, Combat colic for advanced comfort
If you'd like to know more about our vented bottles or want to chat with a friendly expert, please call our Careline on 08085 97 98 99 (now free UK landlines AND mobiles).